ann23011 — Announcement
Science in School: Issue 63 now available
2 June 2023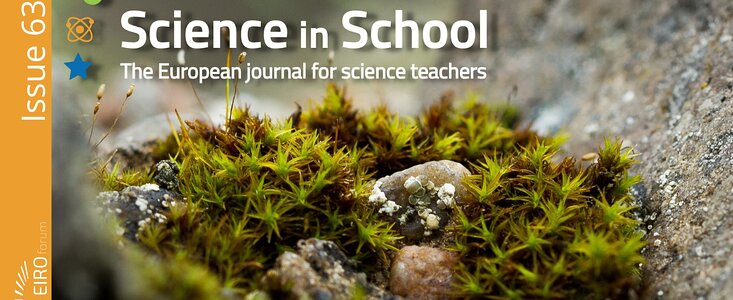 The latest issue of the free magazine Science in School is now available online. This European journal for science teachers offers up-to-date information on cutting-edge science, teaching materials, science education projects, interviews with inspiring scientists and teachers, reviews of books, and many other useful resources for science teachers. It aims to promote science teaching by encouraging communication between teachers, scientists and others involved in European science education.
The third issue of 2023 presents the following Highlights: Find some articles related to the World Ocean Day on 8th June to spark a discussion or explore the issues through hands-on experiments. A lot of resources for STEM teaching, from the effect of oceans on the climate to ocean acidification, are provided. Learn about cultivated meat to gain more clarity in the sometimes confused (deliberately or inadvertently) discussion about it. Get a recap of some of the key concepts of fusion, such as the role of hydrogen isotopes, plasmas, magnetic confinement, microwave heating, and why tokamaks look the way they do.
Suggestions for classroom activities in the Teach articles include a microscopic moss safari to explore the incredible diversity of organisms living in this unique habitat, experiments that demonstrate how the oceans relate to Earth science, a role play to teach synaptic transmission, instructions of how to measure the circumference of the Earth as Eratosthenes did 2300 years ago, and innovative ideas of how to introduce topology in a playful way via dancing.
Science in School is published by EIROforum, a collaboration between eight European intergovernmental scientific research organisations, of which ESO is a member. The journal addresses science teaching both across Europe and across disciplines, highlighting the best in teaching and cutting-edge research. Article submissions for future issues are welcomed, whether from researchers giving a deeper understanding of a specific scientific topic or from teachers or other science educators describing innovative activities to introduce modern science into the classroom. You can read the guidelines for submissions here.
Numerous articles, as well as versions translated into many European languages, can be found online. If you would like to volunteer to translate Science in School articles into your own language for publication online, please see the guidelines on the Science in School website.
More Information
The ESO Supernova Planetarium & Visitor Centre
The ESO Supernova Planetarium & Visitor Centre is a cooperation between the European Southern Observatory (ESO) and the Heidelberg Institute for Theoretical Studies (HITS). The building is a donation from the Klaus Tschira Stiftung (KTS), a German foundation, and ESO runs the facility. 
EIROForum
The European Intergovernmental Research Organisation forum, EIROForum, brings together eight of Europe's largest research organisations. The eight EIROforum organisations have extensive expertise in the areas of basic research and the management of large, international infrastructures, facilities and research programmes.
It is the mission of EIROforum to combine the resources, facilities and expertise of its member organisations to support European science in reaching its full potential.
By promoting inspiring science teaching, EIROforum motivates and encourages young people to explore scientific subjects, and shows them that science is a rewarding career.
Links
About the Announcement
Images

Issue63_cover_Twitter
---