ann22014 — Announcement
ESO Calendar 2023 Now Available
20 November 2022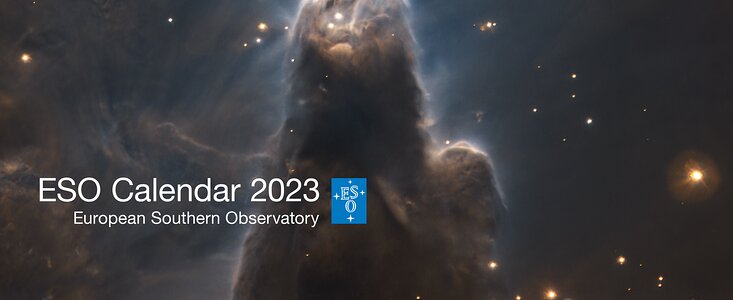 2023 is just around the corner and we have got you covered with the 2023 ESO Calendar — packed full of stunning astronomical images and views of some of the most advanced telescopes on Earth. The calendar is available for purchase at 9,50 euro, from the ESO online shop and in the ESO Supernova Planetarium & Visitor Centre.
The calendar's cover features an image of The Cone Nebula, part of the star-forming region NGC 2264, about 2500 light-years away. Its pillar-like appearance is a perfect example of the shapes that can develop in giant clouds of cold molecular gas and dust, where new stars are created. This dramatic new view of the nebula was captured with the FOcal Reducer and low dispersion Spectrograph (FORS2) instrument on ESO's Very Large Telescope (VLT) and released on the occasion of ESO's 60th anniversary.
The calendar has lunar phases indicated for each month. It measures 48 x 36 cm and comes in a cardboard box.
More Information
The ESO Supernova Planetarium & Visitor Centre
The ESO Supernova Planetarium & Visitor Centre is a cooperation between the European Southern Observatory (ESO) and the Heidelberg Institute for Theoretical Studies (HITS). The building is a donation from the Klaus Tschira Stiftung (KTS), a German foundation, and ESO runs the facility.
Links
About the Announcement
Images

ESO Calendar 2023
---