ann21017 — Announcement
Our Instagram account is live. Follow us and win some prizes!
Amazing images of space, fascinating facts and not-to-be-missed sky events at your fingertips
11 October 2021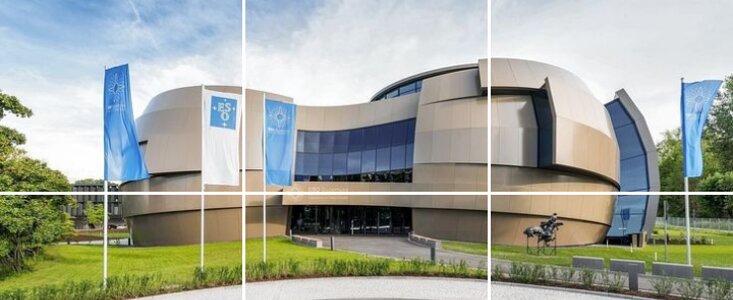 Today, 11 October 2021, the ESO Supernova Planetarium & Visitor Centre starts shining bright like a supernova also on Instagram, generating enthusiasm and passion for astronomy on this long overdue medium. Make sure to follow us at @eso_supernova to #ExperienceTheUniverse and you may win some goodies. Read on to learn more.
With this Instagram account we aim to share with a wider audience bits and pieces from our astronomical exhibition #TheLivingUniverse and provide followers with a glimpse into the immersive visual journeys from our state-of-the art planetarium. Our Instagram followers can expect to learn interesting facts about astronomy, to participate in fun quizzes, to discover the hottest and coolest astronomy news and to never again miss an astro-event in the sky or in our programme! 
For the first week of our Instagram activity, our followers can enter a special giveaway, with a chance to win some ESO goodie bags containing a mug featuring the Carina Nebula, an astronomy-themed T-shirt and the 2022 ESO Calendar. The detailed conditions of the contest will be announced on the social media account.
We encourage our visitors who are active on Instagram to tag us in the photos they take while they #ExperienceTheUniverse at the ESO Supernova, as we will feature the most interesting images on our account. See you on Instagram!
More Information
The ESO Supernova Planetarium & Visitor Centre
The ESO Supernova Planetarium & Visitor Centre is a cooperation between the European Southern Observatory (ESO) and the Heidelberg Institute for Theoretical Studies (HITS). The building is a donation from the Klaus Tschira Stiftung (KTS), a German foundation, and ESO runs the facility. 
Links
About the Announcement
Images

Supernova Instagram
---