ann21004 — Announcement
An Official Guide Book for "Beyond the Sun" Planetarium Show Now Available
The fun and educational material can be freely downloaded and used to help children understand the science of exoplanets
19 February 2021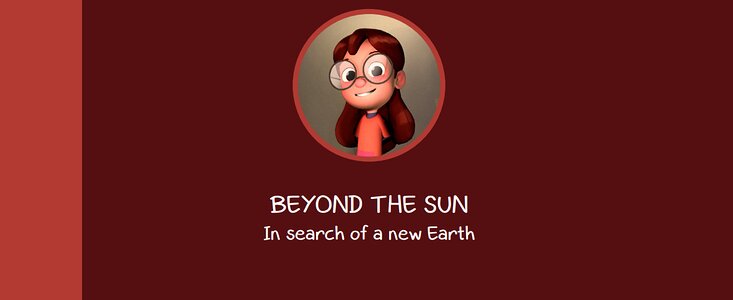 "Beyond the Sun" is a recent addition to the ESO Supernova Planetarium & Visitor Centre programme, focused on the delights and mysteries of exoplanet hunting. An official guidebook in German, intended as a fun learning resource, is now available for download at this link. The resource is also available in English, Spanish and French.
The didactic guide is a perfect complement to the film and integrates the most important concepts and ideas that are developed in the film. Entertainment, scientific supervision and clarity are the foundations of this guide.
The 47-page-material can be used by educators to guide young learners towards a deeper understanding of concepts presented in the show, such as the different types of planets, the Doppler effect, comets and exoplanets.
The content is presented by the two main characters of the show — Celeste and Moon. In the film, Celeste is a little girl who is visited by a friendly particle of light called Moon just before going to sleep. In a dreamlike state, Celeste and Moon travel beyond the Sun and learn many amazing things together.
"Beyond the Sun" uses top-quality photorealistic animation with scientific supervision for a beautiful experience that is also accurate. The planetarium show is suited to children as young as 5, but promises to engage and entertain audiences of all ages. Kids and adults alike will experience and enjoy all the amazing technological work packed into a funny and wonderful story.
In a friendly and relatable manner, the audience is invited to learn about all the different types of worlds including rogue planets, oceanic worlds and super-Earths. Beyond that, viewers can learn about real-life exoplanet hunters who observe the sky and search for other planets that are like Earth.
The planetarium show "Beyond the Sun" and the guidebook have been produced by Spanish companies Render Area and Monigotes Estudio 2.0.
As the ESO Supernova is currently closed, in line with government restrictions, tickets to the show are not currently available for sale. Please follow our website and our Facebook page for updates about "Beyond the Sun" and other shows.
More Information
The ESO Supernova Planetarium & Visitor Centre
The ESO Supernova Planetarium & Visitor Centre is a cooperation between the European Southern Observatory (ESO) and the Heidelberg Institute for Theoretical Studies (HITS). The building is a donation from the Klaus Tschira Stiftung (KTS), a German foundation, and ESO runs the facility. 
Links
About the Announcement
Images

Beyond the Sun guide book (English)
---