es2308 — Organisation Release
"Little Major Tom: Into the Unknown" bookable now!
The new space adventure is in the programme at ESO Supernova from Wednesday 1 November!
6 October 2023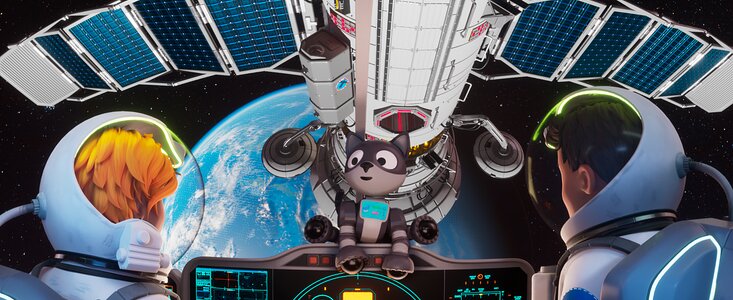 Little Major Tom: Into the Unknown brings the beloved characters of Tom and Stella to immersive domes in an exciting tale set in the year 2053. Teenage friends Tom and Stella live, laugh and train on a space station, honing their astronaut skills as they float above Earth. Stella is ready to dive into any challenge, while Tom is panicking at the thought of completing his first-ever spacewalk. But a massive hurricane is forming on Earth, and Tom must put aside his fears and accept a difficult space mission. If Tom and Stella fail, the consequences could be devastating for them — and for Earth.
Dr. Peter Popp of both Softmachine and Reef Distribution and musician Peter Schilling, singer/songwriter and producer of the No.1-hit song "Major Tom (Coming Home)", teamed up to create the 25-minute long science fiction film, Little Major Tom: Into the Unknown exclusively for fulldome theaters. The animated film was inspired by the popular German children's book series, Der kleine Major Tom, which Schilling co-created. Schilling's chart-topping "Major Tom" song is also featured in the show.
This fulldome show weaves meticulously researched facts about climate change and our future in space with engaging characters, including a robot cat nicknamed Pluty. Kids of all ages will relate to Tom and Stella as the characters come to terms with their dreams and disappointments, accept responsibilities and consequences and become better friends and teammates. Bolstered by the successful book series and the popular song that inspired the show, Little Major Tom will appeal to children, school groups and families alike.
"This show is the perfect combination of great storytelling and fascinating information about our potential future in space," says Popp. "The story conveys how much fun it is to be in a space station, while also demonstrating how critical teamwork is to that environment. It also incorporates an important message about the future that Earth could be facing due to climate change."
The bestselling book series Little Major Tom by Dr. Bernd Flessner (author), Peter Schilling (idea and co-creator) and Stefan Lohr (illustrator) has been published since 2018 by Tessloff Verlag, one of the leading non-fiction publishers for children in Germany. So far, 17 books have been published featuring Tom, his friend Stella and the robot cat Pluty. The stories convey facts and knowledge about space and science.
Schilling knew that Little Major Tom would make a great planetarium show, which led him to Popp, the founder of Softmachine Immersive Productions and Reef Distribution. Popp based the story on the characters and style of the books, working closely with the books' illustrator, Stefan Lohr. "The books are 2D, of course," says Popp, "and we had to make the characters 3D. The story is completely original, but true to the series in that it combines knowledge and narrative. We just made Tom and Stella a bit older to appeal to a wider audience and to allow their adventures to grow as well."
Popp's past films have featured animated characters, such as the fish of Legends of the Enchanted Reef. The challenge of making a film with human characters intrigued him. The setting of space was particularly thrilling to him. "The scenes work so well on the dome," he shares. "No one has ever seen a story like this on a fulldome screen. And the cinematic-quality visuals are reminiscent of the best space films."
Learn more about Little Major Tom: Into the Unknown and watch the trailer at https://supernova.eso.org/programme/detail/es1185/ 
More information
Reef Distribution
Reef Distribution is an expert in the distribution and marketing of immersive edutainment that leaves a positive impact on the audience. Founded in 2003 by Dr. Peter Popp, Reef provides excellent marketing tools and delivers high-quality content for 360° fulldome and Giant Screen Theaters located in science centers, museums and planetariums worldwide. Reef's mission is to raise awareness for the delicate balance between nature and humanity, while helping expand horizons through engaging science-based edutainment films, shows and experiences. Learn more at reef-distribution.com.
Softmachine Immersive Productions
Softmachine Immersive Productions is an award-winning, trendsetting animation studio for 360° fulldome content and films, with more than 20 years of expertise and experience in immersive storytelling. Founded in 2001 by Dr. Peter Popp, Softmachine is a group of skilled, creative individuals with backgrounds in film production and 3D animation.
Softmachine produces premium immersive content in 2D and 3D for planetariums, science centers and attractions. Softmachine is the leader in the artistic and creative process of filmmaking, with a mastery of storytelling, editing, camera, sound and music. Learn more at softmachine.de.
The ESO Supernova Planetarium & Visitor Centre
The ESO Supernova Planetarium & Visitor Centre is a cutting-edge astronomy centre for the public and an educational facility, located at the site of the ESO Headquarters in Garching bei München. The centre hosts a digital planetarium with a tilted, 360-degree dome, 14 metres in diameter, and an interactive exhibition, sharing the fascinating world of astronomy and ESO to inspire coming generations to appreciate and understand the Universe around us. All content is provided in English and German. Entrance to the exhibition is free. For planetarium shows, guided tours and other activities, visitors need to book and pay for their tickets online. For more details visit: supernova.eso.org 
The ESO Supernova Planetarium & Visitor Centre is a cooperation between the European Southern Observatory (ESO) and the Heidelberg Institute for Theoretical Studies (HITS). The building is a donation from the Klaus Tschira Stiftung (KTS), a German foundation, and ESO runs the facility.
ESO Supernova is proudly supported by: LOR Foundation, Evans & Sutherland and Sky-Skan.
KTS
The Klaus Tschira Stiftung (KTS) was created in 1995 by the physicist and SAP co-founder Klaus Tschira (1940-2015). It is one of Europe's largest privately funded non-profit foundations. The Foundation promotes the advancement of the natural sciences, mathematics, and computer science, and strives to raise appreciation for these fields. The Foundation's commitment begins in kindergarten and continues in schools, universities, and research facilities. The Foundation champions new methods of scientific knowledge transfer, and supports both development and intelligible presentation of research findings.
HITS
The Heidelberg Institute for Theoretical Studies (HITS gGmbH) was established in 2010 by the physicist and SAP co-founder Klaus Tschira (1940-2015) and the Klaus Tschira Foundation as a private, non-profit research institute. HITS conducts basic research in the natural sciences, mathematics and computer science, with a focus on processing, structuring, and analysing large amounts of data. The research fields range from molecular biology to astrophysics. The shareholders of HITS are the HITS Stiftung, which is a subsidiary of the Klaus Tschira Foundation, Heidelberg University and the Karlsruhe Institute of Technology (KIT). HITS also cooperates with other universities and research institutes and with industrial partners. The base funding of HITS is provided by the HITS Stiftung with funds received from the Klaus Tschira Foundation. The primary external funding agencies are the Federal Ministry of Education and Research (BMBF), the German Research Foundation (DFG), and the European Union.
ESO
ESO is the foremost intergovernmental astronomy organisation in Europe and the world's most productive ground-based astronomical observatory by far. It has 16 Member States: Austria, Belgium, the Czech Republic, Denmark, France, Finland, Germany, Ireland, Italy, the Netherlands, Poland, Portugal, Spain, Sweden, Switzerland and the United Kingdom, along with the host state of Chile and with Australia as a Strategic Partner. ESO carries out an ambitious programme focused on the design, construction and operation of powerful ground-based observing facilities enabling astronomers to make important scientific discoveries. ESO also plays a leading role in promoting and organising cooperation in astronomical research. ESO operates three unique world-class observing sites in Chile: La Silla, Paranal and Chajnantor. At Paranal, ESO operates the Very Large Telescope and its world-leading Very Large Telescope Interferometer as well as two survey telescopes, VISTA working in the infrared and the visible-light VLT Survey Telescope. Also at Paranal ESO will host and operate the Cherenkov Telescope Array South, the world's largest and most sensitive gamma-ray observatory. ESO is also a major partner in two facilities on Chajnantor, APEX and ALMA, the largest astronomical project in existence. And on Cerro Armazones, close to Paranal, ESO is building the 39-metre Extremely Large Telescope, the ELT, which will become "the world's biggest eye on the sky".
Links
Contacts
ESO Supernova Planetarium & Besucherzentrum
Garching b. München, Germany
Tel: +49 89 320 06 900
Email: supernova@eso.org
About the Release
Images

Little Major Tom — Still 1
---