es2301 — Organisation Release
Join the ESO Supernova team
Help foster early science education
8 February 2023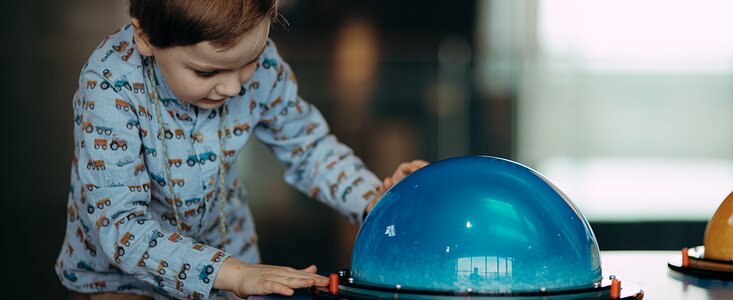 The ESO Supernova is seeking an Education Specialist (Kindergarten/Elementary School) to support its vision to inspire future scientists and engineers to understand the Universe around us.
Since February 2022, ESO has been collaborating on early childhood education with the Forscherstation, Klaus Tschira Competence Centre for Early Science Education, based in Heidelberg. To date, ESO Supernova has hosted two training courses, each consisting of five modules, for educators entitled "Sun, Moon and Stars", which help to bring the wonders of the universe into Kindergartens. Also the education programme of ESO Supernova for Kindergarten and primary schools benefited from the collaboration by offering more workshops, tours and planetarium shows for these target groups.This autumn, a further novelty, the science kits library, will be launched.    
For this collaboration project, ESO is looking for an Education Specialist (Kindergarten/Elementary School) to further develop and expand the project. As an experienced teacher or educator with a university degree (or comparable) preferably in elementary and childhood education or primary education (essential) with focus on natural sciences (desirable), you will be responsible for coordinating the project at ESO Supernova. You will work on the development and delivery of enquiry-based education materials for children aged 3 to 12 years.The materials will be aligned with the corresponding curricula, as well as with the planetarium shows and the themes of ESO Supernova's exhibition. You will also be responsible for the continuous development and implementation of training formats for educators and teachers as well as workshops, guided tours and planetarium shows for kindergarten and primary school children. If we have sparked your interest in working in the field of early childhood education paired with science and cutting-edge technology in a stimulating international environment, you can find additional information on our website or apply here.
More information
The ESO Supernova Planetarium & Visitor Centre
The ESO Supernova Planetarium & Visitor Centre is a cutting-edge astronomy centre for the public and an educational facility, located at the site of the ESO Headquarters in Garching bei München. The centre hosts a digital planetarium with a tilted, 360-degree dome, 14 metres in diameter, and an interactive exhibition, sharing the fascinating world of astronomy and ESO to inspire coming generations to appreciate and understand the Universe around us. All content is provided in English and German. Entrance to the exhibition is free. For planetarium shows, guided tours and other activities, visitors need to book and pay for their tickets online. For more details visit: supernova.eso.org 
The ESO Supernova Planetarium & Visitor Centre is a cooperation between the European Southern Observatory (ESO) and the Heidelberg Institute for Theoretical Studies (HITS). The building is a donation from the Klaus Tschira Stiftung (KTS), a German foundation, and ESO runs the facility.
ESO Supernova is proudly supported by: LOR Foundation, Evans & Sutherland and Sky-Skan.
ESO
The European Southern Observatory (ESO) enables scientists worldwide to discover the secrets of the Universe for the benefit of all. We design, build and operate world-class observatories on the ground — which astronomers use to tackle exciting questions and spread the fascination of astronomy — and promote international collaboration in astronomy. Established as an intergovernmental organisation in 1962, today ESO is supported by 16 Member States (Austria, Belgium, the Czech Republic, Denmark, France, Finland, Germany, Ireland, Italy, the Netherlands, Poland, Portugal, Spain, Sweden, Switzerland and the United Kingdom), along with the host state of Chile and with Australia as a Strategic Partner. ESO's headquarters and its visitor centre and planetarium, the ESO Supernova, are located close to Munich in Germany, while the Chilean Atacama Desert, a marvellous place with unique conditions to observe the sky, hosts our telescopes. ESO operates three observing sites: La Silla, Paranal and Chajnantor. At Paranal, ESO operates the Very Large Telescope and its Very Large Telescope Interferometer, as well as two survey telescopes, VISTA working in the infrared and the visible-light VLT Survey Telescope. Also at Paranal ESO will host and operate the Cherenkov Telescope Array South, the world's largest and most sensitive gamma-ray observatory. Together with international partners, ESO operates APEX and ALMA on Chajnantor, two facilities that observe the skies in the millimetre and submillimetre range. At Cerro Armazones, near Paranal, we are building "the world's biggest eye on the sky" — ESO's Extremely Large Telescope. From our offices in Santiago, Chile we support our operations in the country and engage with Chilean partners and society.
Forscherstation
The Forscherstation at the Klaus Tschira Competence Center for Early Science Education gGmbH, which is headquartered in Heidelberg, is funded by the Klaus Tschira Foundation and is an institute affiliated with Heidelberg University of Education. Its aim is to spark an interest in science among nursery, kindergarten and primary school teachers so that they can discover the world together with children. In line with this approach, the Forscherstation focuses on continuous training courses, providing appropriate experiment ideas, practical research and the qualification of young scientists. You can find more information as well as the current program at www.forscherstation.info
Klaus Tschira Foundation
The Klaus Tschira Foundation (KTS) supports natural sciences, mathematics, and computer science and wishes to contribute to the appreciation of these subjects. It was established in 1995 by the physicist and SAP co-founder Klaus Tschira (1940 – 2015) with private funds. Its three funding areas are education, research, and science communication. The Foundation's work in Germany starts in the kindergarten and continues at schools, universities, and research institutions. The Foundation is dedicated to promoting the dialogue between science and society. More information can be found at: www.klaus-tschira-stiftung.de
Links
Contacts
ESO Supernova Planetarium & Besucherzentrum
Garching b. München, Germany
Email: education@eso.org
About the Release
Images

Young visitor enjoying the exhibition at the ESO Supernova
---