es1401 — Organisation Release
Free Fulldome Material for Planetariums
24 June 2014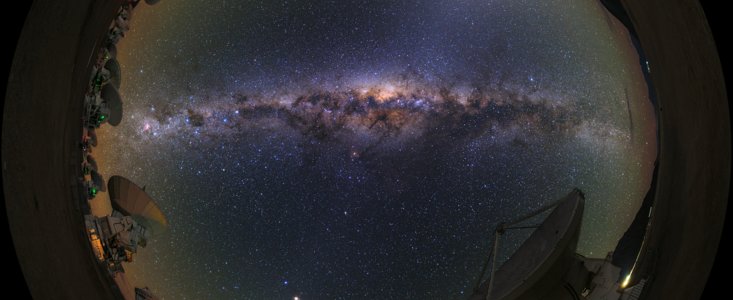 With our upcoming ESO Supernova — Planetarium and Visitor Centre here in Garching in mind, the ESO education and Public Outreach Department has started producing high-quality material for use in fulldome planetarium shows in the facility from 2017. As part of our mandate to communicate astronomy with our Member States and beyond, we are making this material available for free to other planetariums. This was announced today at the 2014 meeting of the International Planetarium Society in Beijing.
The first initiative we have undertaken in this respect is the ESO Ultra HD Expedition, where four world-renowned astrophotographers travelled to Chile to capture the Universe in ultra HD and fulldome format. We would like to share the fulldome results of the expedition through these dynamic links, which will update as more materials become available:
Planetarium producers can access the material in full resolution directly from our ESO website, and it is free to use, provided that the material is credited. All our materials are released under the Creative Commons Attribution 3.0 License, and are available in the highest resolution available online.
We hope that these fulldome resources will help to create a lasting impression on planetarium visitors, transporting them to the fascinating sites of Chile, where our observatories are based, as we seek to bring the Universe closer than ever before.
We look forward to sharing more planetarium materials in the near future. If you don't want to miss any of our Fulldome videos, we recommend to subscribe to our Fulldome RSS feeds:
Contacts
Lars Lindberg Christensen
Head of ESO ePOD
Garching bei München, Germany
Tel: +49 89 3200 6761
Cell: +49 173 3872 621
Email: lars@eso.org
About the Release
Images

ALMA Fish-Eye
---