ann23020 — Announcement
Science in School: Issue 65 now available
3 November 2023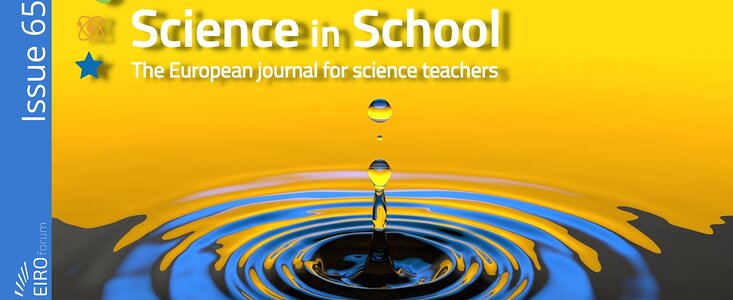 The latest issue of the free magazine Science in School is now available online. This European journal for science teachers offers up-to-date information on cutting-edge science, teaching materials, science education projects, interviews with inspiring scientists and teachers, reviews of books, and many other useful resources for science teachers. It aims to promote science teaching by encouraging communication between teachers, scientists and others involved in European science education.
In the fifth issue of 2023 you will find this:
Did you know that CERN runs exciting national and international teacher programs every year? Submit your application for a chance to be inspired at the home of the Large Hadron Collider! Statistics are important for every branch of STEM; bring real-world data into your classrooms with teaching materials from the European Statistical Office (Eurostat).
Discover how parts of the genome previously dismissed as ´junk DNA´ actually contain non-coding RNAs with important biological functions. While junk DNA was a misunderstanding, space junk is a very real problem; learn about space debris and the danger it poses.
Use photographic pictures sequences to investigate speed and acceleration, as well as exploring sources of error and working with scale factors. Which is better: tap or bottled water? Try a set of activities focused on drinking water to learn about different water sources and promote sustainable habits. Discover microscale techniques to make teaching quantitative chemistry easier, cheaper, and more sustainable. In the second of our articles on the science of honey, try a series of hands-on experiments to explore the chemistry of this fascinating foodstuff.
Science in School is published by EIROforum, a collaboration between eight European intergovernmental scientific research organisations, of which ESO is a member. The journal addresses science teaching both across Europe and across disciplines, highlighting the best in teaching and cutting-edge research. Article submissions for future issues are welcomed, whether from researchers giving a deeper understanding of a specific scientific topic or from teachers or other science educators describing innovative activities to introduce modern science into the classroom. You can read the guidelines for submissions here.
Numerous articles, as well as versions translated into many European languages, can be found online. If you would like to volunteer to translate Science in School articles into your own language for publication online, please see the guidelines on the Science in School website.
More Information
The ESO Supernova Planetarium & Visitor Centre
The ESO Supernova Planetarium & Visitor Centre is a cooperation between the European Southern Observatory (ESO) and the Heidelberg Institute for Theoretical Studies (HITS). The building is a donation from the Klaus Tschira Stiftung (KTS), a German foundation, and ESO runs the facility. 
EIROForum
The European Intergovernmental Research Organisation forum, EIROForum, brings together eight of Europe's largest research organisations. The eight EIROforum organisations have extensive expertise in the areas of basic research and the management of large, international infrastructures, facilities and research programmes.
It is the mission of EIROforum to combine the resources, facilities and expertise of its member organisations to support European science in reaching its full potential.
By promoting inspiring science teaching, EIROforum motivates and encourages young people to explore scientific subjects, and shows them that science is a rewarding career.
Links
About the Announcement
Images

Science in School — Issue 56
---