ann23019 — Announcement
Mind-bending musical experience "Fragmented Future" by tonelabs returns on 9 December
Immerse yourself in the Universe with this groundbreaking audiovisual experience. Tickets are on sale now!
27 October 2023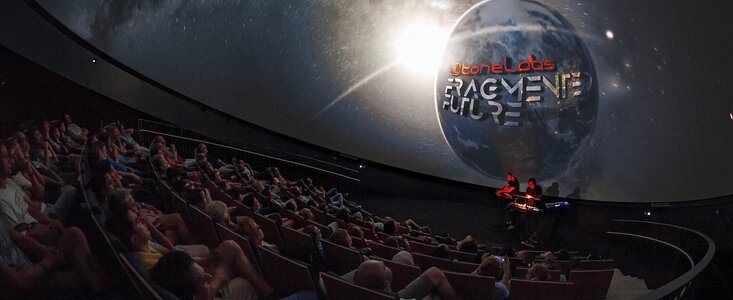 The ESO Supernova Planetarium & Visitor Centre is pleased to announce that the popular show Fragmented Future by tonelabs will return to Garching on 9 December 2023. The show has been updated with new visuals, taking you on an immersive audiovisual journey through the Universe.
Fragmented Future combines cutting-edge animations and videos from across the globe with the mesmerising beats of tonelabs' music to create a truly unique experience. Viewers will be carried on an expedition through the real and virtual cosmos, all set to the music.
By following this link you can book your tickets for only 20 euros and learn more about the event that is scheduled to start at 19:30.
Don't miss out on this chance to experience the Universe in a new way right before Christmas! The show is suitable for all ages.
While you're here, be sure to explore the other shows, exhibits, and unique experiences the ESO Supernova has to offer. Visit our Programme menu to book your tickets and learn more about our upcoming events.
Links
About the Announcement
Images

Fragmented Future
---
Videos

"tonelabs | Fragmented Future" Trailer

"tonelabs | Fragmented Future" Teaser Immersive
---