ann23014 — Announcement
ESO announces the winner of the Summer AstroCamp 2023 prize
19 July 2023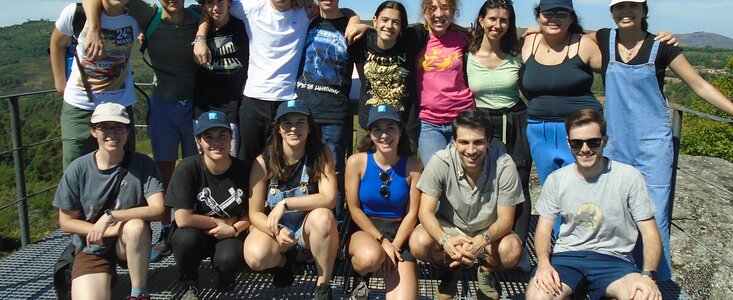 It is with great pleasure that ESO and the Centre for Astrophysics of the University of Porto (CAUP) announce that German student, Anna-Lena Gschrey, has won the summer AstroCamp 2023 prize offered by ESO. Anna-Lena stood out among tens of other applicants from around the world in a highly competitive selection process.
The ESO prize covers all expenses related to the camp, such as the camp fee, comprehensive accommodation with meals, internal transportation to and from Porto airport, and insurance. By granting this prize, ESO is thrilled to support Anna-Lena in joining an initiative that holds the power to inspire the younger generation and ignite their passion for pursuing careers in science and astronomy. Additionally, every participant will be presented with an ESO goodie bag, which includes items like posters, pens, and an ESO cap.
Coordinated by CAUP with support from ESO, the summer AstroCamp is a yearly educational initiative. Focused on astronomy and physics, it is specifically designed for students in the last three years of pre-university education. This twelfth edition of the camp will run for three weeks, from the 6th to the 27th of August, at the Centre for Environmental Education of the Corno de Bico protected landscape, in the north of Portugal. It will bring together twelve students – nine girls and three boys – from France, Germany, Greece, Hungary, Portugal, Romania, Spain and Sweden. In addition to the students, the camp will also include three teachers and five camp monitors.
The camp will offer a rich and diverse programme, including three courses on captivating subjects — a broad one on the physics of the Universe, and two focused on General Relativity and gravitational-wave astrophysics — as well as a series of ten public talks. The talks will be live streamed on YouTube. Moreover, as part of the camp activities, the students will have the opportunity to gaze at the night sky with the naked eye and telescopes. They will also engage online with astronomers and physicists from around the world, take part in a community service project, go on hikes, and initiate projects that they can continue working on remotely after the camp concludes.
Are you aware of anyone who might be interested in joining AstroCamp 2024, or perhaps you would like to participate yourself? Then keep an eye out for the next call for applications, scheduled to be presented early next year and launched in April.
More Information
The ESO Supernova Planetarium & Visitor Centre
The ESO Supernova Planetarium & Visitor Centre is a cooperation between the European Southern Observatory (ESO) and the Heidelberg Institute for Theoretical Studies (HITS). The building is a donation from the Klaus Tschira Stiftung (KTS), a German foundation, and ESO runs the facility.
Links
Contacts
Carlos Martins
AstroCamp organiser
Email: astrocamp@astro.up.pt
Wolfgang Vieser
ESO Education Coordinator
Email: education@eso.org
About the Announcement
Images

Participants of the 2022 Summer Astrocamp
---