ann22008 — Announcement
Winner of Summer AstroCamp 2022 ESO Prize Announced
30 June 2022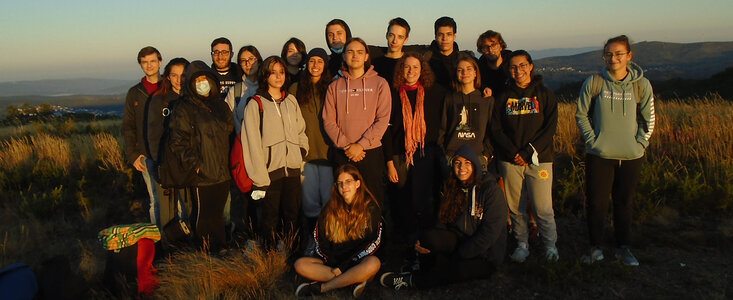 ESO and the Centro de Astrofísica da Universidade do Porto (CAUP) are delighted to announce that April Sánchez Scott, a british-mexican student preparing her A-Levels in the UK, is the winner of the summer AstroCamp 2022 prize offered by ESO. The camp received about 50 valid applications from 12 different countries in Europe and the Americas, most of these applications being from ESO member states. 
The ESO prize covers the camp fee, including full-board accommodation, camp activities, internal travel to and from Porto airport, and insurance. With this prize, ESO is delighted to provide April with assistance to participate in this potentially career-defining event. Furthermore, all participants will receive an ESO goodie bag with, among others, posters, pens and an ESO cap.
The ESO-supported summer AstroCamp is an academic programme devoted to astronomy and physics, organised by the Centre for Astrophysics of the University of Porto (CAUP). The camp will take place from 7–28 August. Overall this eleventh edition of the camp will have ten students (five boys and five girls), aged between 15 and 18 and coming from Portugal, Spain, Brazil, Hungary and the UK, together with four teachers and four camp monitors.
Over the three weeks, the students will take courses on the physics of the Universe and cosmology, relativity, galaxies, and other hot topics in astrophysics. In addition to the courses, the camp also includes a cycle of  10 public talks, taking place either on weekday evenings or on Saturday afternoon, which will be streamed live on YouTube. During the camp, students will also observe the dark night skies using both the naked eye and telescopes, talk online with astronomers and physicists from different countries, contribute to a community service project, and start several practical projects which they will be able to continue remotely after the camp. There will also be some alumni weekend events (for students of previous editions of the camp), including a 10-year reunion for the students of the 2012 edition.
More Information
The ESO Supernova Planetarium & Visitor Centre
The ESO Supernova Planetarium & Visitor Centre is a cooperation between the European Southern Observatory (ESO) and the Heidelberg Institute for Theoretical Studies (HITS). The building is a donation from the Klaus Tschira Stiftung (KTS), a German foundation, and ESO runs the facility.
Links
Contacts
Carlos Martins
AstroCamp organiser
Email: astrocamp@astro.up.pt
Wolfgang Vieser
ESO Education Coordinator
Email: education@eso.org
About the Announcement
Images

Summer AstroCamp 2021 Participants
---