ann22007 — Announcement
A new planetarium show focuses on the Birth of Planet Earth
Learn the twisted tale of our planet's origins
29 April 2022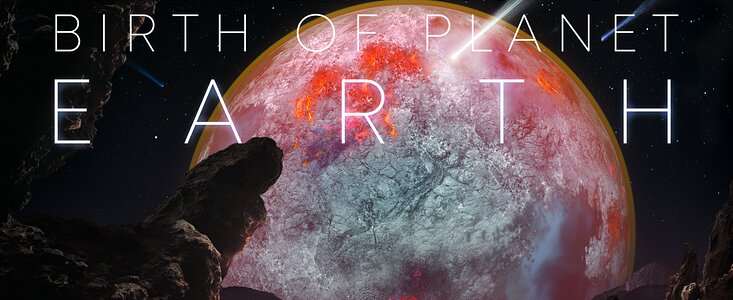 This summer season, from June to August, you are invited to dive into the story of our own planet, as told by the planetarium film: Birth of Planet Earth.
Currently, scientists believe that our galaxy contains as many as a billion planets roughly the same size as the one we live on. Through data-driven, cinematic-quality visualisations, the film explores some of the world's greatest scientific questions today: how did Earth become a living planet in the wake of our Solar System's violent birth? Is its history a sign that we are likely to find worlds that resemble Earth in the future?
The documentary looks at the very beginning of our planet, and the unique characteristics that enabled life to evolve. The new programme will help viewers better understand the history of humanity's existence on Earth.
If this description intrigues you, don't hesitate any longer: book your ticket at this link.
Birth of Planet Earth is an engaging show for audiences of all ages. Recommended for ages 10 years and up, the film covers Solar System formation, comets, geological time, photosynthesis, and how Earth became a living planet. The show lasts approximately 1 hour and tickets cost 5 euros.
The show is produced by Spitz Creative Media, NCSA's Advanced Visualization Lab, and Thomas Lucas Productions Inc., in association with Tellus Science Museum. This project has been made possible with support from the Commonwealth of Pennsylvania and the Greater Philadelphia Film Office. It was funded in part by the National Science Foundation.
To enrich your viewing experience, your show ticket also grants you access to our outstanding, modern and interactive astronomical exhibition, The Living Universe, where you can find out more about our Earth and other planets.
More Information
The ESO Supernova Planetarium & Visitor Centre
The ESO Supernova Planetarium & Visitor Centre is a cooperation between the European Southern Observatory (ESO) and the Heidelberg Institute for Theoretical Studies (HITS). The building is a donation from the Klaus Tschira Stiftung (KTS), a German foundation, and ESO runs the facility.
Links
About the Announcement
Images

Key visual for "Birth of Planet Earth" English
---