ann22006 — Announcement
2022 Summer AstroCamp applications now open
6 April 2022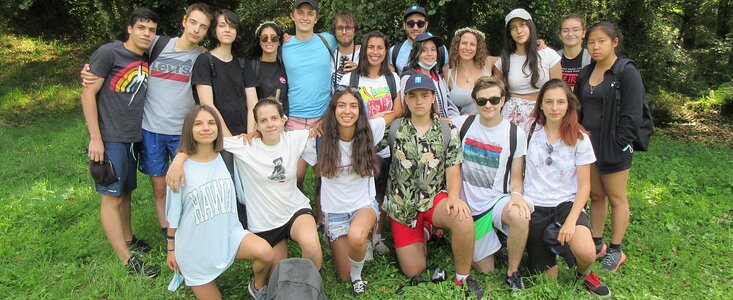 Applications for the eleventh ESO-supported Summer AstroCamp 2022 are now open. Organised by the Centre for Astrophysics of the University of Porto (CAUP), AstroCamp is an academic excellence programme in the field of astronomy and physics dedicated to secondary school students from 42 different countries, including all ESO member states, as well as Canada and the United States. 
The AstroCamp 2022 public presentation can be viewed here. 
The camp, which for the first time will run for three weeks, from 7–28 August, will bring students from a wide range of backgrounds together for a unique and inspiring experience where they can learn about astronomy and physics. As usual, it will take place in a beautiful protected landscape area in the north of Portugal.
Applications for the Summer AstroCamp 2022 are open from 1–30 April. Applicants are required to submit a motivation letter alongside a letter of recommendation from their physics teacher and recent academic results. Students younger than 18 also need to provide a parents' authorisation form.Those who are shortlisted will be invited to a Skype/Zoom interview during the weekend of 28–29 May, and successful candidates will be offered places by 5 June, and will have some camp preparation activities in July.
Last year, fifteen students aged between 15 and 18 took part in the camp — five boys and ten girls, from Portugal, Spain, Croatia, Brazil, Germany and Poland. Over the course of two weeks, the astronomy enthusiasts took courses on relativity and on the physics of stars, galaxies and the Universe as a whole, observed the dark night skies using both the naked eye and telescopes, and connected online with astronomers and physicists from different countries. 
Organisers are hopeful that this year's camp will also go ahead with every participant attending in person.
For students in Portuguese schools the camp will be free of costs, while for other students the camp fee is €400. This cost covers full-board accommodation, camp activities, internal travel to and from Porto airport, and insurance. ESO will offer the best applicant from one of its member states a bursary covering the camp fee (international travel to Porto airport will not be included). 
Further details about the camp regulations can be found on the camp website.
More Information
The ESO Supernova Planetarium & Visitor Centre
The ESO Supernova Planetarium & Visitor Centre is a cooperation between the European Southern Observatory (ESO) and the Heidelberg Institute for Theoretical Studies (HITS). The building is a donation from the Klaus Tschira Stiftung (KTS), a German foundation, and ESO runs the facility. 
Links
Contacts
Carlos Martins
AstroCamp organiser
Email: astrocamp@astro.up.pt
Email: Carlos.Martins@astro.up.pt
Wolfgang Vieser
ESO Education Coordinator
Garching bei München, Germany
Tel: +49 89 3200 6183
Email: wvieser@eso.org
About the Announcement
Images

AstroCamp 2021 Participants
---