ann21019 — Announcement
Summer AstroCamp 2021 Participants
12 November 2021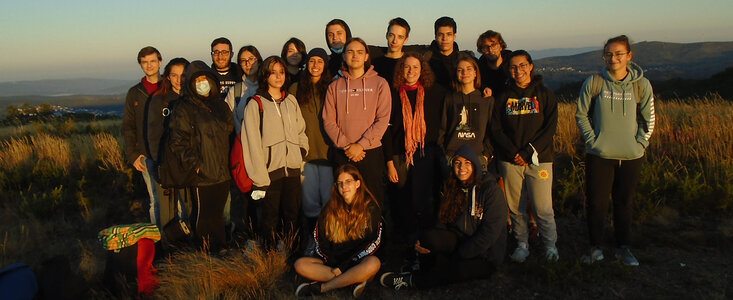 From 8 to 22 August this year, AstroCamp 2021 took place at the Centre for Environmental Education and Interpretation in the Corno de Bico Protected Landscape in northern Portugal. AstroCamp is an astronomy-focused academic programme for secondary school students which aims to bring together students with different backgrounds and life experiences, but with one common passion: astronomy.
Fifteen students aged between 15 and 18 took part in the camp — five boys and ten girls, from Portugal, Spain, Croatia, Brazil, Germany and Poland. Over the course of two weeks, the astronomy enthusiasts took courses on relativity and on the physics of stars, galaxies and the Universe as a whole, observed the dark night skies using both the naked eye and telescopes, and connected online with astronomers and physicists from different countries. 
They also completed a computational project, working with data from some of the world's best telescopes. Social activities such as hiking, sports, community service activities and film and documentary sessions also contributed to making the camp a fun and enriching experience.
While this camp has been running since 2012, it was only opened to international students in 2016. ESO began supporting the camp in 2017, awarding a full bursary to a student from one of ESO's Member States. The preparations for the 2022 camp are already starting, and more information will be published on the website soon.
More Information
The ESO Supernova Planetarium & Visitor Centre
The ESO Supernova Planetarium & Visitor Centre is a cooperation between the European Southern Observatory (ESO) and the Heidelberg Institute for Theoretical Studies (HITS). The building is a donation from the Klaus Tschira Stiftung (KTS), a German foundation, and ESO runs the facility.
Links
Contacts
Tania Johnston
Head of ESO Supernova
Garching bei München, Germany
Tel: +49 89 320 061 30
Email: tjohnsto@eso.org
Oana Sandu
Community Coordinator & Communication Strategy Officer
ESO Department of Communication
Email: osandu@partner.eso.org
About the Announcement
Images

Summer AstroCamp 2021 Participants
---