ann21014 — Announcement
ESO Calendar 2022 Now Available
10 September 2021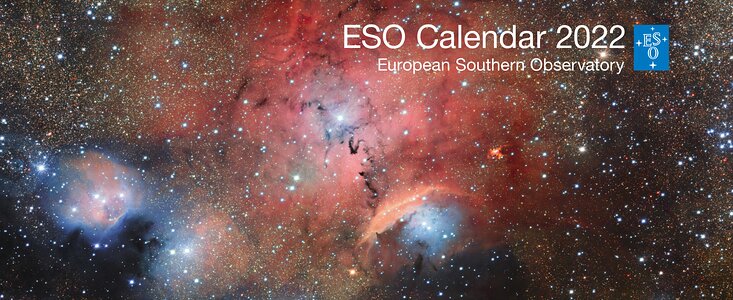 Featuring awe-inspiring images for each month, your astronomical companion for the next year — the 2022 ESO Calendar — is now available for purchase from the ESO online shop and in the ESO Supernova Planetarium & Visitor Centre. 
The calendar's cover features an image of the star-forming region of Sharpless 29, taken with the OmegaCAM on ESO's VLT Survey Telescope at Cerro Paranal in Chile. Inside, the calendar includes a selection of some of the most spectacular images of the cosmos, as well as photographs of ESO's telescopes against the backdrop of the striking Chilean landscapes.
The month of February is represented by an image of the fantastic planetary nebula NGC 2899, a shell of gas expanding from a giant star at the end of its life — glowing over the background stars. A golden-bathed sunset above one of the 1.8-metre-diameter Auxiliary Telescopes at  Paranal Observatory is the chosen image for the month of June. 
The Comet C/2020 F3, nicknamed NEOWISE, makes an appearance in the month of July, as it was photographed passing above ESO Headquarters in Garching, Germany in 2020. The image is even more spectacular due to another nighttime phenomenon: the very unusual noctilucent clouds — shiny, icy clouds that look remarkably like water ripples in the night sky. 
The year is crowned in December by the Milky Way's majestic arch, stretching across the sky on the Chajnantor Plateau in Chile, home to the ALMA observatory, in which ESO is a partner.
The calendar has a total of 14 pages, and is available for 9,50 EUR in the ESOshop. This is one of our most popular products, so make sure to buy your copy quickly. Deliveries will start in mid-September.
More Information
The ESO Supernova Planetarium & Visitor Centre
The ESO Supernova Planetarium & Visitor Centre is a cooperation between the European Southern Observatory (ESO) and the Heidelberg Institute for Theoretical Studies (HITS). The building is a donation from the Klaus Tschira Stiftung (KTS), a German foundation, and ESO runs the facility.
Links
About the Announcement
Images

ESO Calendar 2022 cover
---