ann21013 — Announcement
Science in School: Issue 54 now available
10 September 2021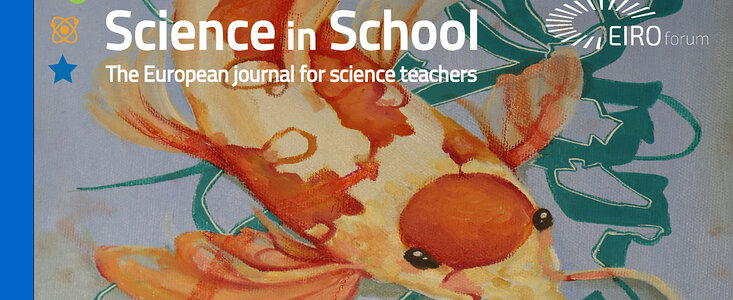 The latest issue of the free digital magazine Science in School is available. This European journal for science teachers offers up-to-date information on cutting-edge science, teaching materials, science education projects, interviews with inspiring scientists and teachers, reviews of books, and many other useful resources. It aims to promote science teaching by encouraging communication between teachers, scientists and others involved in European science education.
Just in time for the new school year, this issue presents the following Highlights: an overview of ESA's various interdisciplinary school projects, an introduction to accelerator science via 'Star Wars', how organ-on-chip technology can replace animal use in medical research, background information on the coming shortage of chemical elements crucial to our technological society, and how x-ray free-electron lasers help in unlocking the secrets of photosynthesis. 
Teaching activities provide suggestions for colourful experiments about pH chemistry and neutralisation reactions, classroom activities for teaching about freshwater on Earth, instructions on how to build a virtual particle accelerator, and introduce the PDB Art project to explore the beauty of proteins.
Science in School is published by EIROforum, a collaboration between eight European intergovernmental scientific research organisations, of which ESO is a member. The journal addresses science teaching both across Europe and across disciplines, highlighting the best in teaching and cutting-edge research. Article submissions for future issues are welcomed, whether from researchers giving a deeper understanding of a specific scientific topic or from teachers or other science educators describing innovative activities to introduce modern science into the classroom. You can read the guidelines for submissions here.
Numerous articles, as well as versions translated into many European languages, can be found online. If you would like to volunteer to translate Science in School articles into your own language for publication online, please see the guidelines on the Science in School website.
More Information
The ESO Supernova Planetarium & Visitor Centre
The ESO Supernova Planetarium & Visitor Centre is a cooperation between the European Southern Observatory (ESO) and the Heidelberg Institute for Theoretical Studies (HITS). The building is a donation from the Klaus Tschira Stiftung (KTS), a German foundation, and ESO runs the facility. 
Links
Contacts
Wolfgang Vieser
ESO Education Coordinator
Email: wvieser@eso.org 
About the Announcement
Images

Issue54TwitterCover
---