ann21002 — Announcement
Join us for a live virtual tour of our exhibition!
1 February 2021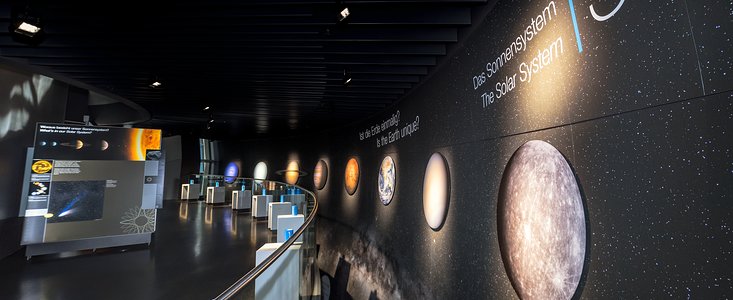 Whilst the ESO Supernova remains closed to the public and guided tours are not possible in our beautiful building, we are introducing live virtual tours of our exhibition. The first of these tours will take place on Thursday 4 February at 18:00 CET. Join our presenter Tobi Beuchert, as he guides you through our exhibition "The Living Universe", explaining the history of the Solar System. The tour will be in German and can be watched here https://youtu.be/bxF-IKMB9k0
A second tour will take place on Friday 12 February at 18:00 CET (again in German), in which Tobi will introduce the ESO telescopes and how we use these to further our understanding of the Universe. This second tour can be watched here https://youtu.be/K8vBZZPsLFM
Additionally, keep your eyes open for more short planetarium clips which will be published on our Facebook pages in English and German and on our YouTube channel. The next of these will be published on Wednesday 10 February and will tell you more about Mars, including where to find it in the night sky during February. Subscribe to our YouTube channel to receive notifications whenever we post new videos.
More Information
The ESO Supernova Planetarium & Visitor Centre
The ESO Supernova Planetarium & Visitor Centre is a cooperation between the European Southern Observatory (ESO) and the Heidelberg Institute for Theoretical Studies (HITS). The building is a donation from the Klaus Tschira Stiftung (KTS), a German foundation, and ESO runs the facility. 
Links
About the Announcement
Images

Our Solar System
---