ann20012 — Announcement
Enjoy astronomy in a virtual setting
New ESO Supernova content brought to you in the safety of your home
22 December 2020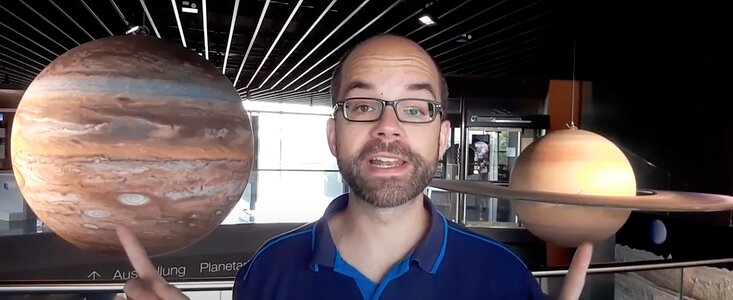 While the ESO Supernova Planetarium & Visitor Centre remains closed due to the ongoing pandemic, our staff has developed a series of online and virtual content to allow us to keep in virtual contact with our visitors — videos on popular astronomical themes, live virtual tours of our exhibition and online planetarium short clips.
On our Facebook pages in English and German, you can discover a series of messages under the hashtag #ThematicWeek, taking our visitors on a week-by-week tour of our exhibition, the Living Universe. For this series, our staff developed several short videos, which can now be watched on our YouTube channel as well. Designed with both a young and adult audience in mind, the short films explain concepts such as astronomical scales, the formation of star systems and the properties of planets in our Solar System.
We have recently tested live virtual tours of our exhibition as well and are pleased to announce that we will be continuing this activity and the #ThematicWeek in the new year for as long as the ESO Supernova will remain closed.
Finally, just in time for Christmas, we are launching a series of online planetarium short clips, meant to give you a taste of what it is like to attend one of our in-person live planetarium shows. In the first clip, we take a look at the sky above the ESO Supernova, identify planet Mars and the Cassiopeia constellation and we also tell you more about ESO's Paranal Observatory in Chile. Please visit this link to watch the video.
The second video will be released on 23 December, and it will tell you more about the Great Conjunction between Jupiter and Saturn that is currently visible in the night sky and its possible connection with the "star of Bethlehem". Subscribe to our YouTube channel and click on the bell icon to get notified when we upload this video and new ones in 2021, or follow us on Facebook, in English or German.
We would like to thank you all for your interest in astronomy and the European Southern Observatory (ESO) and hope you will enjoy our new content. We very much look forward to welcoming you again to the ESO Supernova in 2021. We wish you and your family and close ones a relaxing winter break.
More Information
The ESO Supernova Planetarium & Visitor Centre
The ESO Supernova Planetarium & Visitor Centre is a cooperation between the European Southern Observatory (ESO) and the Heidelberg Institute for Theoretical Studies (HITS). The building is a donation from the Klaus Tschira Stiftung (KTS), a German foundation, and ESO runs the facility. 
Links
Contacts
Tania Johnston
Head of ESO Supernova
E-Mail: supernova@eso.org
Oana Sandu
Community Coordinator & Communication Strategy Officer
ESO Department of Communication
E-Mail: osandu@partner.eso.org 
About the Announcement
Images

Thematic Week #9
---