ann20009 — Announcement
Change to weekend opening hours for ESO Supernova
9 October 2020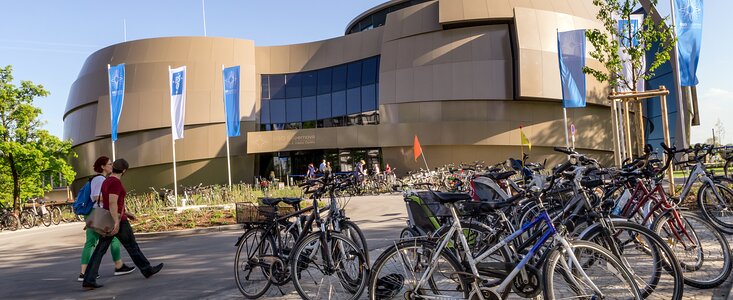 Following the feedback from our weekend visitors, who have commented that the current opening hours don't allow them enough time to easily explore our interactive exhibition, we are pleased to announce that we have been able to modify our weekend opening hours, whilst still ensuring a safe and enjoyable experience for everyone. 
From 31 October, on Saturdays and Sundays, the ESO Supernova will no longer close for one hour and our visitors can stay in the building from 12:00 until 17:00, uninterrupted. We will still be offering 2 planetarium shows per day and, with the change to the opening hours, are happy to be able to provide our visitors with more time to enjoy our exhibition before or after a show. Opening hours Wednesdays to Fridays remain unchanged, namely we are open from 09:00-12:30 and from 13:30-17:00. 
All other COVID-19 measures remain the same, and we encourage people to book a visit to the ESO Supernova! If you make a booking for a planetarium show, there is no need to make an additional reservation to visit our exhibition. Your planetarium ticket gives you access to our exhibition on the same morning or afternoon. 
The planetarium programme until end of November is now bookable online, and the December programme will be published by mid-November. 
Since reopening at the beginning of August, the ESO Supernova team has been delighted to welcome over 3000 visitors, many of whom had never visited before. The feedback from our visitors has been very helpful for us and we are very happy to hear that people feel safe with the protective measures we have implemented. 
More Information
The ESO Supernova Planetarium & Visitor Centre
The ESO Supernova Planetarium & Visitor Centre is a cooperation between the European Southern Observatory (ESO) and the Heidelberg Institute for Theoretical Studies (HITS). The building is a donation from the Klaus Tschira Stiftung (KTS), a German foundation, and ESO runs the facility.
Links
Contacts
Tania Johnston
Head of ESO Supernova
Garching bei München, Germany
Email: tjohnsto@eso.org 
About the Announcement
Images

ESO Supernova opens its doors to the world
---