ann19013 — Announcement
Stellar Night Concert by Stan Dart
Join us on a musical journey through the stars
2 October 2019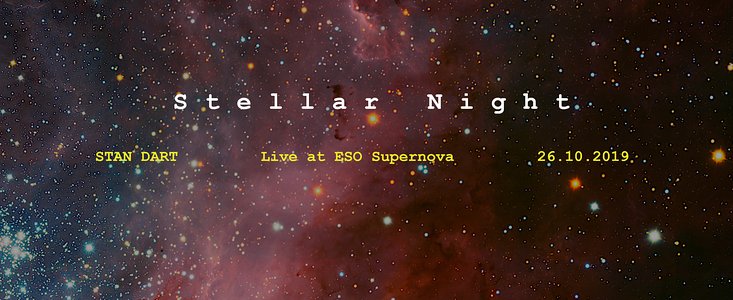 It seems that many of us forget to look up at the stars and see their beauty, especially those of us living in cities. Stellar Night by Stan Dart will take you on a musical journey through the Universe, combining chillout and ambient styles, soundtrack and (sometimes) dance elements. The goal? To remind you that nature is still the best artist we know. The concert takes place on 26 October inside the ESO Supernova planetarium. Only 218 tickets are available.
Born in the year that NASA first landed on the Moon, Stan got involved in music as a teenager through creating mixtapes of his favourite music. As a child of the 80s, the music of this decade was formative for Stan. Songs by Frankie Goes To Hollywood, Propaganda, Depeche Mode, ELO and Queen accompanied him throughout these years. During this time, Stan developed a love of soundtracks and electronic music. Listening to Vangelis and Kitaro, James Horner, Jan Hammer and, later on, Hans Zimmer, had a huge impact on his music.
Besides making his own tracks, since 2009 Stan has been working with artists from Germany, the UK, the USA and Austria, to name just a few, to produce collaborations, jingles and remixes.
Stan's fascination for astronomy shines through in his music. Many impressions flow from his chilled, ambient sounds: the depth of space, the unknown frontier which is yet to be explored, and nature itself as an unbeatable creator of beauty.
Join us for a unique experience under the 360-degree inclined dome of the ESO Supernova planetarium. Stan's music will combine with images of the Universe, projected all around, to create an immersive environment that will leave you in awe of our place in the cosmos. Tickets cost 20 euros and can be purchased online. Only 218 tickets are available, 109 for each of the two shows scheduled on the evening of 26 October. Each show lasts about 70 minutes and is recommended to all above 16 years of age.
More Information
The ESO Supernova Planetarium & Visitor Centre
The ESO Supernova Planetarium & Visitor Centre is a cooperation between the European Southern Observatory (ESO) and the Heidelberg Institute for Theoretical Studies (HITS). The building is a donation from the Klaus Tschira Stiftung (KTS), a German foundation, and ESO runs the facility.
Links
Contacts
Tania Johnston
ESO Supernova Coordinator
Garching bei München, Germany
Tel: +49 89 320 061 30
Email: tjohnsto@eso.org
Connect with ESO Supernova on social media
Oana Sandu
Community Coordinator & Communication Strategy Officer
ESO Department of Communication
Tel: +49 89 320 069 65
Email: osandu@partner.eso.org 
About the Announcement
Images

Key visual for "Stellar Night"
---