ann19012 — Announcement
Meet our astronomers and engineers at Researchers' Night 2019
23 August 2019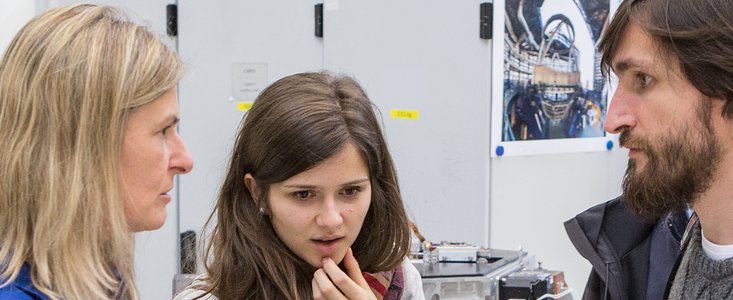 Have you ever wondered how astronomers do their research and what they investigate? What does an average day look like for an engineer, and what does it take to operate the best telescopes in the world? If you are curious to know what drew our staff to these fascinating professions then join us for Researchers' Night at the ESO Supernova. Astronomers and engineers from the European Southern Observatory (ESO) have teamed up with colleagues from the neighbouring Max Planck institutes across the Garching research campus to engage with visitors stepping through our doorway on the evening of 27 September 2019.
The doors of the ESO Supernova will open at 17:30. Visitors can book a place in the planetarium to attend the German talks session from 18:00 to 19:30, or reserve a seat for the English talks session, from 20:00 to 21:30. Tickets for each of the planetarium sessions cost 5 Euros each. We encourage visitors to book their tickets online, well in advance.
The evening will be an international one, aptly reflecting the global, cooperative and diverse nature of astronomy. Speakers in the English session come from Cyprus, Italy, the Netherlands, Poland and the United States and they are all either PhD students or fellows. They will address a range of topics in an accessible manner for the general public, including galaxy evolution, supernovae, the Atacama Large Millimeter/submillimeter Array (ALMA) — the largest ground-based astronomical project in existence — active galactic nuclei and our Milky Way galaxy.
In addition to the talks, our permanent exhibition, The Living Universe, and our temporary exhibition,  Laser, Light, Life — From science fiction to high-tech photonics, will be open to the public until 22:00, with scientists and engineers available to engage with visitors. Access to the exhibition does not require prior booking and it is free of charge.
The European Researchers' Night is a yearly event that takes place across Europe. It aims to bring researchers closer to the general public and to increase awareness of research and innovation activities, with a view to supporting public recognition of researchers, creating an understanding of the impact of researchers' work on citizens' daily lives, and encouraging young people to embark on research careers.
More Information
The ESO Supernova Planetarium & Visitor Centre
The ESO Supernova Planetarium & Visitor Centre is a cooperation between the European Southern Observatory (ESO) and the Heidelberg Institute for Theoretical Studies (HITS). The building is a donation from the Klaus Tschira Stiftung (KTS), a German foundation, and ESO runs the facility.
Links
Contacts
Tania Johnston
ESO Supernova Coordinator
Garching bei München, Germany
Tel: +49 89 320 061 30
Email: tjohnsto@eso.org
Connect with ESO Supernova on social media
Oana Sandu
Community Coordinator & Communication Strategy Officer
ESO Department of Communication
Email: osandu@partner.eso.org 
About the Announcement
Images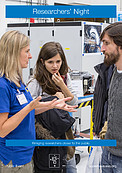 "Researchers' Night" poster (English version)
---