ann19010 — Announcement
Celebrate 50 years since the first people set foot on the Moon
ESO Supernova activities dedicated to Apollo 11 Moon landing
3 July 2019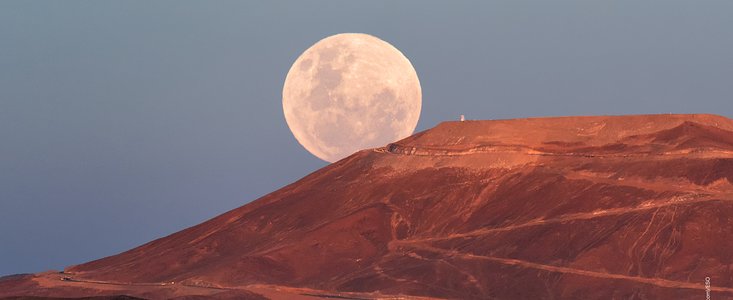 On 20 July 1969, commander Neil Armstrong and lunar module pilot Buzz Aldrin landed the Apollo 11 Lunar Module Eagle on the Moon. Armstrong became the first person to step onto the lunar surface, saying the famous words "One small step for (a) man, one giant leap for mankind". Aldrin joined him 19 minutes later. In 2019, the world celebrates 50 years since the success of the Apollo 11 mission, and the ESO Supernova has prepared a series of activities to mark the occasion.
Our staff have designed a special live planetarium show titled 1969 – The Eagle has landed that will run on this day only. Join us on a historical journey following the path of the Apollo 11 astronauts. Lean back and watch the starry sky from Tranquility Base where the Lunar Module "Eagle" landed. Hear about the pros and cons of doing astronomy from the surface of Earth's only natural satellite before you will again leave the Moon, travelling to the moons of our neighbouring planets and still further out beyond our Solar System. This show will be available only in German and tickets should be booked online.
Another show running on that weekend will be the award-winning Google Lunar XPRIZE fulldome planetarium show, Back To The Moon For Good, which chronicles the efforts of teams around the world who were competing for the largest international incentivised prize in history, to land a robotic spacecraft on the Moon. This show will be available in German and tickets should be booked online. German-English translation headsets are available at reception for those who wish to hear the show in English. 
In the evening of Saturday 20 July, visitors can attend a panel discussion, in German, covering the pros and cons of crewed space flight versus ground-based observations. The event features Prof. Dr. Wolfgang Hillebrandt, MPA, Dr. Suzanna Randall, ESO and Prof. Dr. Dietrich Baade, ESO. This event is free and is supported by MPA and MPE. Although free, a ticket is required. Tickets can be booked online.
As usual, entrance to our permanent exhibition The Living Universe is free of charge and requires no prior booking. Simply show up at the centre and pick up a free ticket from the reception desk. We currently have also a free temporary exhibition on display, Laser, Light, Life — From science fiction to high-tech photonics.
More Information
The ESO Supernova Planetarium & Visitor Centre
The ESO Supernova Planetarium & Visitor Centre is a cooperation between the European Southern Observatory (ESO) and the Heidelberg Institute for Theoretical Studies (HITS). The building is a donation from the Klaus Tschira Stiftung (KTS), a German foundation, and ESO runs the facility.
Links
Contacts
Tania Johnston
ESO Supernova Coordinator
Garching bei München, Germany
Email: tjohnsto@eso.org
Oana Sandu
Community Coordinator & Communication Strategy Officer
Department of Communication
Tel: +49 89 320 069 65
Email: osandu@partner.eso.org
About the Announcement
Images

Key visual for the show "1969 – The Eagle has landed"
---