ann19009 — Announcement
Asteroid Day programme at ESO Supernova
ESO Supernova will host a range of activities on the 5th anniversary of the day of asteroid awareness and education
10 June 2019

The ESO Supernova Planetarium & Visitor Centre will be celebrating Asteroid Day on 30 June 2019, and invites you to join in with the activities. This year marks the 5th anniversary of Asteroid Day, which seeks to raise global awareness about asteroids and to support the resources necessary for further asteroid exploration. The ESO Supernova will be hosting special activities on this theme.
Throughout the day, in the seminar room on the 4th floor, you will be able to watch movies and listen to short talks about asteroids, their origins and what they can teach us about the Solar System, as well as the discoveries being made by ongoing asteroid research. The exact programme for the seminar rooms can be found here. No reservation is needed for the seminar room activities but seats are limited.
In the foyer area of the seminar rooms, you will also find lots more information about asteroids.
Children will also build their own asteroid model in the ground floor foyer area of the building. No reservation is required, simply drop by.
The new planetarium show, The Amazing Adventures of Rosetta and Philae, will be shown for the first time. You should book your places for the show in the usual way online.
The exhibitions at the centre will also be open as usual and do not require prior booking.
In the evening there will be a public talk about asteroids, given (in German) by Dr Thomas Mueller, of the Max Planck Institute for Extraterrestrial Physics (MPE). A reservation is required to attend this talk. For a full description of the talk and to book your tickets please click on this link "Asteroiden: Gefahr aus dem All?"
Founded in 2014 on the date of the largest asteroid impact on Earth in recorded history (Tunguska), Asteroid Day has grown into a worldwide event. In 2016 the United Nations declared it an official day of awareness and education about asteroids. You can find out about activities happening near you here.
More Information
The ESO Supernova Planetarium & Visitor Centre
The ESO Supernova Planetarium & Visitor Centre is a cooperation between the European Southern Observatory (ESO) and the Heidelberg Institute for Theoretical Studies (HITS). The building is a donation from the Klaus Tschira Stiftung (KTS), a German foundation, and ESO runs the facility.
Links
Contacts
Tania Johnston
ESO Supernova Coordinator
Garching bei München, Germany
Email: tjohnsto@eso.org
Oana Sandu
Community Coordinator & Communication Strategy Officer
ESO Department of Communication
Email: osandu@partner.eso.org
About the Announcement
Images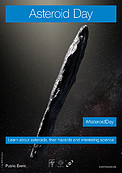 "Asteroid Day" May 2019 poster (English version)
---