ann19005 — Announcement
Interactive talk: Infrared Astronomy — Objects & Observatories
Join us on a virtual flight into the stratosphere to discover infrared radiation in our daily lives and in the Universe
3 April 2019
On 26 April 2019, the planetarium at the ESO Supernova will host an evening of discovery centred around infrared radiation. The properties of infrared light, how it is observed in astronomy, areas of application and its role in everyday life, all this will be revealed through live experiments in which the audience can participate.
Attendees will be introduced to the celestial objects that reveal themselves to astronomers only with the help of infrared observations, and the instruments that ESO and others have built to detect this type of radiation coming from space. The virtual trip into the stratosphere, projected onto the 14-metre-wide 360-degree planetarium dome, will introduce one of the most extraordinary observation platforms — SOFIA (Stratospheric Observatory for Infrared Astronomy), an airborne observatory that flies in the upper stratosphere to study the infrared sky.
To reserve a place at Infrared Astronomy — Objects & Observatories, on 26 April 2019, from 19:00, please book online. The ticket price is 10 euros and places are limited to 109 seats.
More Information
The ESO Supernova Planetarium & Visitor Centre
The ESO Supernova Planetarium & Visitor Centre is a cooperation between the European Southern Observatory (ESO) and the Heidelberg Institute for Theoretical Studies (HITS). The building is a donation from the Klaus Tschira Stiftung (KTS), a German foundation, and ESO runs the facility.
Links
Contacts
Tania Johnston
ESO Supernova Coordinator
Garching bei München, Germany
Tel: +49 89 320 061 30
Email: tjohnsto@eso.org
Oana Sandu
Community Coordinator & Communication Strategy Officer
ESO Department of Communication
Tel: +49 89 320 069 65
Email: osandu@partner.eso.org
About the Announcement
Images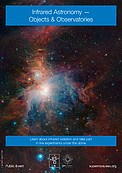 "Infrared Astronomy - Objects & Observatories" poster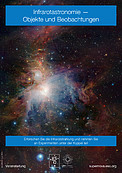 "Infrarotastronomie - Objekte und Beobachtungen" poster (German)
---