ann19004 — Announcement
Ark Noir to play in public concert at ESO Supernova
Experience electronic-inspired beats & instrumental improvisation under the planetarium dome
11 March 2019
On 19 April 2019, the young Munich-based "electronic-jazz-collective" Ark Noir will play under the planetarium dome at the ESO Supernova Planetarium & Visitor Centre. The group's original compositions, which blend synth-heavy improvisation and beats, will be accompanied by 360-degree visuals, immersing fans in a unique, cosmic experience.
Inspired by artists from an eclectic mix of genres, including jazz and hip hop, the band has emerged with their own unique sound, fusing electronic beats with instrumental improvisation. The ESO Supernova Planetarium will make for an unconventional venue for this innovative young group to perform. The 360-degree dome 14 metres wide will provide an atmospheric setting in which to experience their music, promising a memorable evening for all attendees.
Performing for you will be:
Sax & EWI – Moritz Stahl
Keyboards – Sam Hylton
Guitare – Tilman Brandl
E-Bass – Robin Jermer
Drums – Marco Dufner
Though young, the band members have accrued many accolades between them, including Bayerischer Kunstförderpreis 2017 and the Kurt Maas Jazz Award 2017.
To reserve a place at Ark Noir — Live in the Universe, on 19 April 2019, from 20:00, please book online. The ticket price is 20 euro and places are limited to 109 seats.
More Information
The ESO Supernova Planetarium & Visitor Centre
The ESO Supernova Planetarium & Visitor Centre is a cooperation between the European Southern Observatory (ESO) and the Heidelberg Institute for Theoretical Studies (HITS). The building is a donation from the Klaus Tschira Stiftung (KTS), a German foundation, and ESO runs the facility.
Links
Contacts
Oana Sandu
Community Coordinator & Communication Strategy Officer
ePOD
Tel: +49 89 320 069 65
Email: osandu@partner.eso.org
Tania Johnston
ESO Supernova Coordinator
Garching bei München, Germany
Tel: +49 89 320 061 30
Email: tjohnsto@eso.org
About the Announcement
Images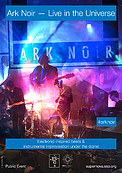 Ark Noir — Live in the Universe Poster

Ark Noir — Live in the Universe key visual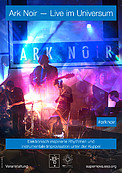 Ark Noir — Live im Universum Poster (German)

Ark Noir — Live im Universum key visual (German)
---
Videos

Ark Noir — Live in the Universe Trailer
---