Dear visitors and supporters!
Although the ESO Supernova is now closed until the end of January 2020, we have been busy planning an exciting programme for the first half of the new year.
We are delighted to announce a new show in our planetarium programme: The Planets 360, which is a wonderful musical journey through our solar system, accompanied by amazing real images of the planets. This first showing of this will be on Sunday 2 February 2020.
Also in our February programme, we are very pleased to be hosting the second free "Women in Astronomy" event, organised by the Max Planck Institute for Extraterrestrial Physics (MPE). Prof. Grebel from the University of Heidelberg will be giving a public talk "Galactic Archaeology" (in German). As this event is free, be sure to book your seats quickly!
We would like to take this opportunity to thank you all very much for your support this year and we hope to welcome you again to the ESO Supernova in 2020. We wish you a very happy festive season and a great 2020.
Tania Johnston
ESO Supernova Coordinator
---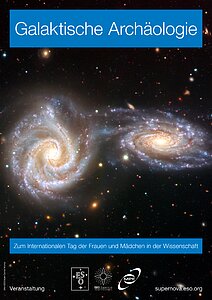 11/02/2020 19:00
---
23 December 2019: Starting on 2 February 2020, the ESO Supernova Planetarium & Visitor Centre invites you to an immersive extravaganza touring the Solar System: The Planets 360. The inaugural screening of the ...

Read more
| | |
| --- | --- |
| | 2 December 2019: As we carry out maintenance work and take some time to prepare for the year ahead, the ESO Supernova Planetarium & Visitor Centre will be closed during the first month ... |
---
17 December 2019: On the occasion of the International Day of Women and Girls in Science, The Max Planck Institute for Extraterrestrial Physics (MPE) is organising its annual free event "Women in Astronomy ...

Read more